Can social change be joyful? Well, I have now had my first encounter with one key initiative here at Pilotlight that shows how.
Strategy Challenge is a pro bono programme run by Morgan Stanley, with support in the UK from the team here at Pilotlight. This year was the seventh annual Strategy Challenge in London (it has run in New York since 2009).
Our colleagues have worked with a wonderful set of talented colleagues from the bank, supporting them to collaborate together in teams to help six charities on the challenges that they face. Drawn with different skills and from different parts of the bank, the employee teams work together with the charity they are supporting over nine weeks to come up with creative solutions and actions. Everyone comes together to present and report back – with one of the teams selected as the year's winner. It is co-operation, it is a competition and it is all for a cause.
The challenges set for the teams are practical and pressing. Great Ormond Street Hospital Children's Charity want to know how to improve their support for parents and families through a more strategic approach to their property assets. Every day 619 children and young people arrive from across the UK at Great Ormond Street Hospital.
The Felix Project asked for a delivery model for their new East London depot, to address hunger in the area – over 1.5 million people in London now are reported to be at risk in terms of their food insecurity. The City Year UK social enterprise, which places coaches into schools to help pupils from disadvantaged communities, asked if it should expand to more cities, and if so how. The health volunteering charity Helpforce, just four years old and supporting around 10,000 volunteers, wants to identify the most effective business model for it to succeed over time.
Barnardo's asked the Morgan Stanley team for support in researching, developing and promoting a new product suitable for its potential market of 18 million UK families.
Perhaps the most remarkable – and uplifting – story of a charity facing challenges is NHS Charities Together. The charity was formed in 2008 as a collaborative alliance of health charities and was at the helm of the COVID-19 Appeal launched in 2020, which raised over £100m in just six weeks. Led by Ellie Orton, the charity had gone in twelve months, from a turnover of £400,000 to one of £150m and from 100 member charities to 241, with the staff growing from four to twenty two.
The team supporting City Year UK received the prize for outstanding work, but there was overwhelming agreement that all teams delivered incredibly valuable outputs to the six charity partners. As Mark Curtin, CEO at The Felix Project said "in my twenty year career in the sector, this is by far the most valuable pro bono programme I have ever benefited from."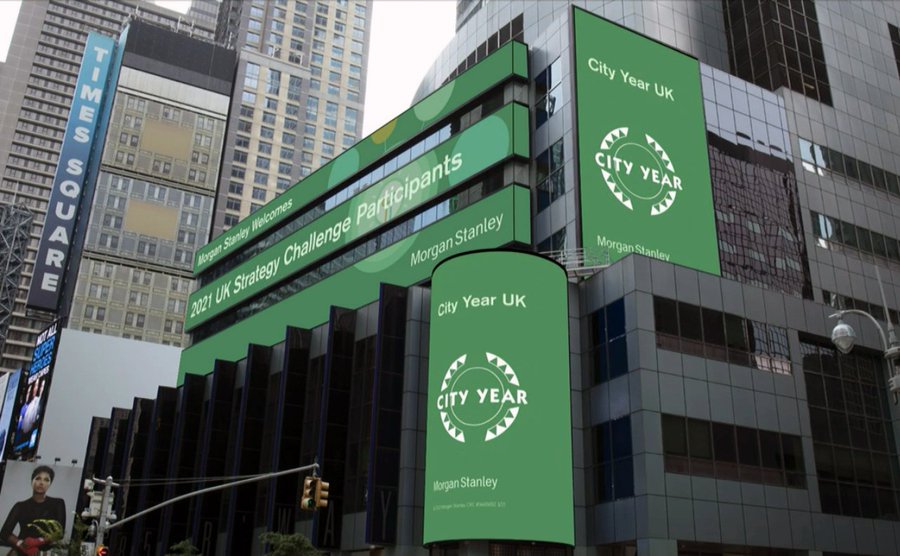 It was a joyful event and to convey and share the sense of this, here are some quotes that I took from people contributing to the day:
Ellie Orton, CEO NHS Charities Together
"This has made a huge difference to our organisation, the consultation has been invaluable. The balance of tactical and practical inputs and solutions is perfect. I often describe us as flying the plane whilst still building it. The team understood the human factors of our organisation and the emotional well-being of our team. They have empowered us to make the business case for the changes we need to make. Thank you to Morgan Stanley and Pilotlight. For us, for me, the timing could not have been more impactful. It will make a real difference to how our organisation is shaped and grows in future."
Kevin Munday, CEO City Year
"You have answered the question, done a thorough review of what we do. From September we can target more schools and help more young people. On your approach, you got to know us and became part of our team. You worked in a way that skilled us up. You have provided us with practical tools not just ideas. I have experienced many pro-bono projects in my time – one management consulting firm left us with a long slide deck but a year later there was nothing to show for it – and this is by far the best."
Mark Lever, CEO of Helpforce
"We are a small team with only 11 staff, this work has massively impacted our ability to review and respond to our challenges. You have helped us to see how we can leverage our small team and contacts to have a huge impact. We saw a diverse range of charities and challenges and superb impact from Morgan Stanley for the sector, expertly supported by Pilotlight. Thanks so much."
The benefit to the charities was tangible, but the Strategy Challenge was clearly also important to those who took part with such commitment for the teamwork and learning that they took away. As one said with joy at the close "we have seen our firm's core values played out in what we have done."