As the next faltering step passes on the roadmap to a life after pandemic, we can start to imagine the question "what did you do during the pandemic?"
Kevin Peacock has an answer and it is an extraordinary one. He is CEO of St. Andrews Community Network, a charity caught up in the heart of action around the COVID-19 pandemic and one that at Pilotlight we have been working to support, indeed throughout the pandemic.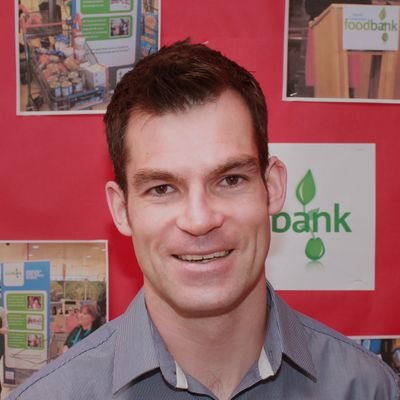 Kevin describes how this started on a date etched in his memory – Saturday March 14th 2020. "Those days are etched in our brains now as important to us, the early days of the pandemic. We would have been getting ready to collect food at home games for either Liverpool and Everton around twenty five per cent of the food we collect came from games at the two clubs. Instead, football was cancelled under government orders and we were meeting to discuss that as we wouldn't be able to collect food in the same way."
"Our local MP had been in a parliamentary briefing. He advised that the restrictions wouldn't be short term, wouldn't be over quickly, so we needed a plan. So that morning, we sat down and we made a plan."
St. Andrews Community Network is a small charity which originates from a church project. It coordinates North Liverpool Food Bank, connected to the national Trussell Trust, which is a network of eleven churches and community organisations delivering food, with around 400 agencies distributing vouchers that refer people into the food bank. The charity also provides financial and debt advice, regulated by the Financial Conduct Authority. At the start of the pandemic, they had around 200 people help out as volunteers.
"The plan that we made on that same Saturday" says Kevin "and evolved as we went through was to switch our donations base as we knew that people wouldn't be going to supermarkets, to be able to drop off at our door or collect at football matches. So, working with our friends at Fans Supporting Foodbanks, we published instead options for people to give to us financially. By the end of that first Saturday, we had raised £8,000. People were incredibly generous. Over the twelve months, we have raised £180,000, just by inviting people to give what they would normally have given in food."
"We also recognised that our normal distribution systems wouldn't work in the pandemic. People would normally come to the food bank, sit and have a cup of tea, gather their food and take it away in person. So we moved to an online voucher issuing system, we pre-packed all our food, commandeered some community centres and put our volunteers to work to do this. We put out a call for help in April and by the end of the month, we had another two hundred people to add to our midst."
"We also contacted all of the people we were supporting with money advice. In general, things were quieter for them, because they couldn't see face to face advisors and equally creditors couldn't chase them in person for repayment. We still needed to make sure that we were contacting people."
The big change for Kevin and the team was that the charity became a core part of the emergency response in the city. To begin with, the city council and other partners struggled to adapt, to respond even as people were short of food and queueing in supermarkets. Kevin was able to say that the charity had been doing this for years. And he made a simple offer "how can we help?" Some of the help was about clear thinking – who needs food, why do they need food and how do we get to them. And some was very practical help. The charity had foodstocks, vans, volunteers. It could do what was needed in terms of legwork on the ground.
"Because we acted with generosity in those early days", says Kevin, "We have adopted a role which was unexpected for us, which is much more strategic." Kevin has been on the City Council's COVID Recovery Group and now chairs a Food Insecurity group, to make sure that what happen to people without food in those early stages doesn't happen again.
One of the results was a rapid growth in the charity itself as it stepped up its services in collaboration with others in the city – growth in demand, services and donations.
"We have grown from an organisation that would ordinarily normally turn over £300,000 to just over one million this year, so huge financial growth. We have added seven staff over the period of the year, four since January to focus on debt advice and benefits advice post COVID recovery."
In this context, the support from Pilotlight was perfectly weighted. "The thing that I really valued about our Pilotlight involvement over this period was focusing on mission. So, yes OK grow, but don't become distracted by the things you weren't there to do originally and focus on the people you were there to serve. Growing and staying focused on mission is quite a challenge, but we have done it."
Cutting across all of Kevin's story is incredible staff and volunteer dedication. "We very early on stated that COVID safety trumped everything – we gave people the choice to opt in or opt out. By and large most people opted to stay involved. This kind of empowerment and choice really stood us in good stead through the pandemic. Many of our people, staff in particular, have worked outside of job descriptions for an extended period of time in order to make happen what we needed to make happen."
An example is one of the charity's debt advisers, who is a retired fireman. Having done some health and safety training, he quickly became a guru at COVID safety, to the extent that the materials that he wrote around risk assessments became adopted by Public Health Liverpool as best practice for other to adopt. "We were acting beyond our authority" explains Kevin "but based on something that was quite instinctive and reactive for us".
The way that staff and volunteers acted was no accident. "We already had a culture of responsibility" says Kevin. Throughout the process, the charity ran on open, participatory lines, giving responsibility to staff and asking questions like 'what do you think?' and 'how are we going to deal with this?'. This approach allowed staff and volunteers to share their concerns and worries as well as generating mature conversations around how to get things done rapidly at a time of risk and uncertainty.
In return, Kevin and the trustees focused in on the little things that make a difference in terms of people's well-being. "We have periodically offered £50 wellbeing pick me ups, no questions asked" comments Kevin. One staff member bought garden furniture, another a painting by numbers kit. It was what was needed. Staff went round to the house of a staff member had been furloughed, to leave a birthday cake on his doorstep. "He had felt bad about being on furlough as he had to stay indoors," said Kevin. "We made him feel part of the team and he really valued that."
Generosity is a value that Kevin stresses. "Whenever we have come up with an idea, or had a plan, we have shared it with others. We have not kept it to ourselves. Our risk assessments for example have been used by multiple charities across the city. With our food stocks, we were sharing and passing food between people, genuinely working in partnership with others, giving away where needed because we realised that to come through this pandemic, we needed a joint and collaborative approach. We were really generous all the way through and I am really proud of that" he concludes.
"One of the reflections from our Pilotlighters which I really valued" he continued "is that we could be agile in a way that other organisations couldn't easily be. I could get people together to say OK what are we going to do about this and then things would happen." This was being clear as a leader, but not being dictatorial, instead finding ways to talk things through, to consult and then to get to decisions and move to take action at speed and as a team.
That first weekend in March 2020 set the tone. "We met on a Saturday morning, set a funding platform set up and had donations in by 7pm in the evening."
What did Kevin and his colleagues and neighbours in the St. Andrews Community Network do during the pandemic? They provided lifeline services to people in Liverpool at a time of extreme vulnerability. And they did so at the right speed, acting as fast as the crisis itself was unfolding.